Out of Africa
But South Africa is not out of me
A life changing experience
with the Lord!
February 9-19 2015
Here I am at the Ark of Salvation Church
in Standerton, South Africa
A time to simply bless the children.
In this Issue:
HUGE THANK YOU!
And MANY BECAUSES

First of all a huge thank you for those of you who encouraged me right from the start about going ; even knowing Randy would not be joining me. Years ago the Father let us know there would be times like these. Thanks goes also to those of you who through your donations to Feed My Lambs Ministries made this adventure financially possible. Because of Jesus' great love for us and YOUR PRAYERS there was never a glitch that overtook us with any anxiety; and in fact, everything fell into place perfectly…at least from my Pollyanna view. I hope you had a chance to read the reports we sent out from the mission field…they were packed full of awesome testimonies of healing.
February 9th at Tampa Airport. Randy shot this picture of the team.
BECAUSE Jesus said: "All authority in heaven and on earth has been given to Me. Therefore go and make disciples of all nations, baptizing them in the Name of the Father and of the Son and of the Holy Spirit.Teaching them to obey everything I have commanded you." Matthew 28:19
And because Jesus told us to do the works (and more) that He did and to lay hands on the sick and drive out demons…A team of ten flew from Tampa, Florida to Johannesburg South Africa to connect with a dynamic team of worshipers, intercessors, and Kingdom servants in Standerton, South Africa.
Because Patrick and Ann Rattey from South Africa met Pastor Tony and his wife, Nancy, and others last summer… and then, back home, Patrick met Amanda Le Roux from Standerton and told her about Living for Jesus International.
The Lord made the connection for this outreach. Amanda, Celia, and so many other intercessors and "hands on" people helped to make preparations for us to come. They plowed up the soil, sowed seeds of faith and the hearts of many were open to believe. The Lord reaping the increase!
Tony and Nancy listen attentively to the heart of Amanda for her nation.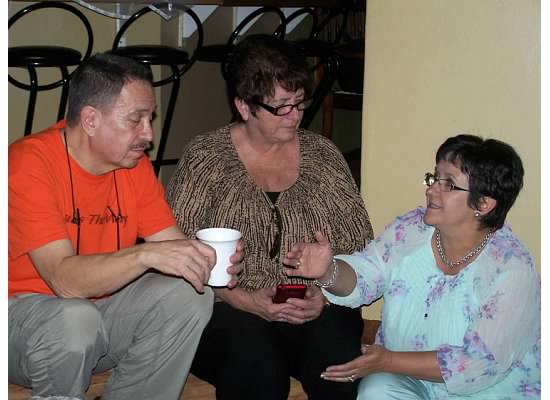 Ann and Patrick opening the gates of heaven with worship
Do I look like I am having fun!
BECAUSE Amanda and others with a heart for the
street children, orphans, and babies of prostitutes, saw the http://https://mlsvc01-prod.s3.amazonaws.com/1c3db9e6001/e0390b32-b056-424d-9465-41a94e4a15f9.jpg
Some of the hundreds of dresses
Dresses and other blessings for the children.
need for a safe home and school environment to be
established – Saving Grace was birthed. This was our first local outreach for which many of you donated clothing, school supplies, candies, and treats. Lance and Lynn Anderson founders of Haiti Care Ministries sent over 200 handmade dresses and diapers.
BECAUSE
Dick Evans told me about this trip, and Because two dear friends of ours, Tony and Casey (in the picture) had years and years of mission experience, most of it in the jungles of Africa, and because I knew this would NOT be a jungle trip – I just knew my Jesus had invite me to go as all my life has been about "here I am, send me"… And my Beloved has always made His plans clear. Because Amanda advertised our coming to bring the healing love of God to Standerton, a lady "happened" to read the ad and offered us her guest house to rent for the week. Eight of us fit well in this home that also had hot running water… 🙂
The pastors of the Ark and their children.
.
TWO VENUES ONE MISSION
VENUE 1 -Standerton "Ark Salvation"
This church gathered with great expectation morning after morning, often worshiping for an hour before we got there. This church met in a hot warehouse type structure that they are trying to fix as funds are available. They are Located in a poor area of the town where much witchcraft and crime is often a problem. Nevertheless they came out and were hungry and thirsty for the Word of God to minister to their spirit soul, and bodies.
They were not disappointed!
People waiting for prayer after Words of Knowledge released
Pastor Tony taught about the healing love of God and how Jesus went about healing the sick. He shared that we are to believe for healing for ourselves and for others.
Each morning, after the teaching, we as a team, would share the Words of Knowledge the Holy Spirit gave us about specific sickness, physical pain, diseases, and other situations. Eagerly the people came to receive hands laid on them. As a team we blessed them with Jesus' anointing. Sickness, debilitating pain, emotional heart issues, and demonic influences had to GO in Jesus' name!And they did. It was so much fun for me to really SEE people totally relieved from all kinds of painful situations as I simply laid my hands on them…BELIEVING that the love of God was indeed flowing.Tears of joy, smiles of peace, and the presence of the Lord's love and power was demonstrated to all.
Even the ones who didn't seem to be instantly healed left with faith that the healing anointing had been imparted to them. For more of the story in pictures from the Ark Click here
Venue 2: Cross Generation Church – Standerton
Cross Generation Church
The pictures in the link below will speak more than a thousand words. However, let me try to share my excitement in words too.
Night after night the people came to worship, to be taught, to be healed, and to be equipped to bless others: just as the people at the Ark of Salvation had learned. After Tony's teaching and some powerful testimonies from previous mission outreaches, he asked the team for any Words of Knowledge.We all had several by the leading of the Holy Spirit who let us know some of the things that needed to be healed tonight. This is so much fun!
One of the words I got was about a right elbow pain. Two people responded.I laid hands on the lady and told the pain and swelling to go, In Jesus' Name and right away she could move her arm with NO PAIN. Because we went to South Africa to impart and not to show off, I told the lady to now pray for the man in pain. She did and he got totally healed. Oh dear ones the testimonies go on and on. Indeed pastor Tony is still receiving testimonies by email. Glory to God.
Another of my favorite times was when I had a word for a person with cataracts. People were responding quickly to all the Words of Knowledge or just plain coming forward for prayer so quickly that the front was a mass of people. I had no idea who the person was with the cataracts. So. I just went up to a lady and asked how I could pray for her. "I have cataracts in both my eyes." WOW! later she told me she asked God how the person with the word would know..He told her…(oh you have to love this….) "She will come to you." The Lord not only healed her eyes totally but she fell under the weight of His glory and Jesus had me speak words of encouragement and confirmation to her for a long time. We are now great friends…oh when I asked her what her name was she said, "Marie". Would you believe that happened several times? I thought Marie was a French name. LOL
Each member of the team has tons of stories to tell also.
The last meeting, both in the Ark of Salvation Church and in this one the whole team lined up to pray for impartation to anyone who wanted to receive from us a blessing and an encouragement
An Arial view of one of the first nights. By Sunday there was little room at the front where ministry took place
Yup nearly the whole church responded. Oh, what fun to impart Father' love, peace, joy, faith and so much more. Needless to say Jesus left His foot print there in a huge way. To God be the Glory and may there be much fruit that remains for His Glory!
For more pictures from this church – why not Click Here
They said we could hold and pet these cubs but I quickly learned that they had real teeth and claws.
Well, you've heard of Daniel in the lion's den and now you are seeing Marie in the lion cubs den. On our last full day in South Africa we were treated to a safari like adventure. Visiting beautiful animals in their natural environment in protected sanctuaries was quite a thrill for this girl.
We ended the day with a relaxing time at Celia's home and enjoyed a delicious meal. What a blessed trip this was for all of us.Thank you Jesus and thank you again Prayer Warriors.!
To enjoy more of the South African wild life you can Click Here
A personal confession…Last year eight women who were personal friends of ours died, perhaps ahead of time, only God knows. All of them were believers and prayed for by others… My faith in Divine Healing was nearly shattered. I needed to re-fire my faith and this trip to South Africa has done just that! I know none of us have our minds totally renewed to all the truths of the Word of God. However, I am pressing in to greater levels of faith and trust to see the works that Jesus did and his disciples after Him play a bigger part in my thinking and acting from now on. Want to join me?
MEMO – unfortunately I was not able to include other pictures in this post. Hope to build an album soon for your viewing.
We hope you enjoyed our endeavor to share the South Africa mission trip experience with you.
Who knows maybe the Lord will call you to such an experience.
Blessings and love from Randy and Marie
Feed My Lambs Ministries | 941-445 9535 smithstraveling@yahoo.com | https://feedmylambsministries.org